---

Summer 2016

This summer I interned at Hatfield Marine Science Center working with the Oregon Sea Grant Marine Education Program. I had the pleasure to work as mainly a camp counselor at five different marine summer camps that went from grades 3-12 . I also was given the task of photographer where I was able to capture precious memories for the campers and their parents. In addition to the camps I assisted Cait Goodwin with an educator's workshop. Where educators came from all over different districts of Oregon associated with SMILE Program and learned about Our Changing Ocean, Aquatic Invaders, and Oregon Sea grass.

I have learned so much about Marine life and I know that I've only scratched the surface! I have been quite inspired by this opportunity and the biggest lessons that I have learned, besides marine trivia are:
1. To have a social responsibility to keep each environment that I enter to be left the same and if not better than I found it and to educate others to do the same. There is quite a lot of plastic and waste being thrown into our ocean that is not safe for the creatures that inhabit it. If the little creatures are eating plastic, in essence we might be hindering our own health. Which leads to my second biggest lesson.
2. It is important to understand how food webs work and to be cautious about what products you do and don't buy. Also to know how things are processed and handled. For example, say I was really hungry for some fish. So I go to the store and buy one, but do I know what that fish ate? Probably not... hope it didn't eat plastic.








| | | | |
| --- | --- | --- | --- |
| Water Wonders Camp | All Things Fishy Camp | Marine Investigations Camp | Marine Mammals Camp |
Powered by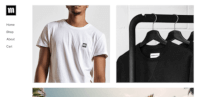 Create your own unique website with customizable templates.